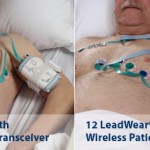 Hospital acquired infections are a major concern to the American Health Care Industry.  Each year infections cost an estimated 30-50 Billion dollars and cause 100,00 deaths to patients who trust their health to all levels of providers across the Nation.  Research to identify common sources of infection has implicated ECG wires as a reservoir for bacteria.
A study by Gilske, D et al at Advocate Lutheral General Hospital, Park Ridge, IL examined ECG wires as a source of Hospital Acquired infection.  In this study, 35 sets of ECG wires from ICU were disinfected using the standard Hospital protocol for cleaning rooms after discharge of a patient.  Both wires and snaps were cultured.  These researchers found:
From the 35 cultures, 57 organisms were detected
    65% positive for coagulase negative stahp
    11% positive for methacillin resistant staph aureus
    14% positive for vancomycin sensitive enterococcus
    3%  positive for vancomycin resistant enterococcus
They concluded that standard decontamination methods applied to reusable ECG wires and snaps are not effective.
Click here to review a poster session presenting the original work.
The Lifesync Corporation has introduced a wireless ECG to the marketplace.  The disposable leads are placed on the patient and connected to a wireless device which sends signals to a receiver connected to the standard monitor.  The immediate and obvious advantage is the reduced risk of infection offered by the disposable ECG leads.  The secondary gain for the Anesthetist is removal of wires from the work area.   The ability to position the patient lateral or prone without the mess of ECG wires is a definite plus of this system.  Click here to go to the Lifesync web site.  If you have used this product, please write a review in the comments section of this post.
Disclaimer:  PROCRNA.COM has NO financial tie to Lifesync Corporation or it's products.  All questions should be directed to Lifesync.