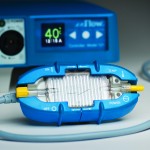 PROCRNA.COM presents new products of interest to the anesthesia community.   Inclusion on this web site does not constitute an endorsement of the product.  Please review this information, visit the enFlow web site and obtain a demonstration from your local representative. 
Keeping surgical patients at a normal body temperature is a daily struggle for those in the medical field. Among the 45 million inpatient1 and 34.7 million ambulatory2 surgeries occurring annually in the United States, it is estimated that 50-90% suffer from hypothermia (defined as a core temperature below 36 degrees Celsius).3 Hypothermia in the perioperative environment is caused by a variety of factors including low operating room temperatures, large surgical incisions, a core-to-peripheral redistribution of body heat as a result of anesthetics, chilled IV solutions, surgical procedure length, and more.4 Hypothermia has a significant impact on postoperative outcomes, which are almost exclusively undesirable.
Hypothermia is one of the most preventable complications resulting from an operative procedure, and prevention is most effective when warming begins preoperatively5 and continues across the surgical workflow. Vital Signs Inc., a GE Healthcare Company, has introduced an IV fluid/blood warmer that helps hospitals start the warming process early and continue warming across the patient's care journey to reduce the occurrence of hypothermia.
The enFlow* IV Fluid/Blood Warming System is helping hospitals warm their patients with mobility, speed, and accuracy. The patient-dedicated cartridge attaches in-line to standard IV fluid/blood delivery sets at the start of procedures and moves with the patient, allowing care givers an easy, efficient, and cost effective way to warm across each stage of the surgical process. When it is time to move from one area of the surgical workflow to another, the user simply removes the cartridge from the enFlow warming unit, allowing the IV set in its' entirety to be moved with the patient when transported. Once the patient arrives at the next area, the cartridge is easily inserted into an enFlow warming unit stationed in that area and is back to heating within seconds. In addition to mobility and speed, the system also enables accurate temperature control with a differentiated warmer that sits close to the patient (reducing the opportunity for fluids to cool in the IV line) and has eight temperature sensors ensuring fluids are the right temperature for patients.
To learn more about the enFlow IV Fluid/Blood Warming System and the impact it can have on your Anesthesia Department.  Click here to visit the enflow web site.
*enFlow is a trademark of General Electric Company
1 Center for Disease Control and Prevention, FastStats. Inpatient Surgery, Data are for the U.S. Accessed November 29, 2011. http://www.cdc.gov/nchs/fastats/insurg.htm.
2 Center for Disease Control and Prevention. U.S. Outpatient Surgeries on the Rise. Accessed November 29, 2011. http://www.cdc.gov/media/pressrel/2009/r090128.htm.
3 Young, V. Watson, M. Prevention of Perioperative Hypothermia in Plastic Surgery. Aesthetic Surgery Journal. 2006; 551-571.
4 Kurz A, Sessler DI, Lenkhardt R. Perioperative normothermia to reduce the incidence of surgical-wound infection and shorten hospitalization. N Engl J Med 1996;334:1209-15.
5 Paulikas, CA. Prevention of Unplanned Perioperative Hypothermia. AORN J. 2008; 88(3): 358-365. DOC1194144