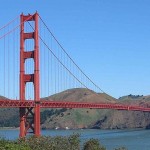 Boston, Seattle, San Francisco, Honolulu, Jackson Hole, San Antonio…there are some amazing destinations for anesthesia meetings right here in the USA.  Most of the venues are places where there is a long list of thing s to see and do.  And all of the destinations  provide plenty of opportunities for you to stay active.
Run For Fun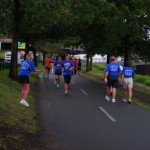 AANA's annual meeting has been offering a 5-K fun run for just under a decade.  It's an easy 3.1 mile course along the city's most scenic route with shuttle service provided start and finish.  Runners, walkers, strollers (those are the people who stayed up late the night before) are all welcome and you're the celebrity.  Beautiful surroundings, beautiful celebs, and a free t-shirt as beautiful as t-shirts get, make all that exercise a beautiful bonus.  Sometimes the local ANA offers early morning fitness classes at the host hotel with leadership provided by CRNA's who apparently enjoy waking people up as much as putting them to sleep.   Click here for the AANA wellness run in San Francisco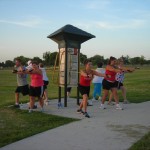 Take Your Bands
Exercise bands are almost as easy to use as they are to pack.  You can do a complete work-out in your hotel room, in the hotel gym, in a park, at the beach or looking out over the harbor in Seattle or Boston.  All you need is two or three bands, a doorjamb, railing or a pole to anchor them, a little backpack to carry them, or a waist small enough to tie them around your middle.  With access to cool water and a hotel-sized washcloth, aka sweat rag, you're good to go.  Bands weigh less than an I-pad and they pack flatter than a ten-dollar bill.
Rent A Bike
One of the best ways to see your city and get some great exercise at the same time is to rent a bike.  Google "bicycle tours in Vancouver" or "rent a bicycle in Austin" and refine the search from there.  Be sure to use the word bicycle because otherwise you'll end up with Harley Suzuki as your travel companion, which might be a blast, but you won't get much exercise unless you fall off and have to walk back.  You may be able to get a private, guided bicycle tour – more money, of course, but if you like to be at the head of the class asking questions, money talks and the expense will pay off.  Click here to learn about bike rental in San Francisco.
Many cities have initiated bike-share programs. This service goes by a variety of names – like Q-bikes in Portland, B-cycle in San Antonio, or simply Bike-share in Boston – and features a fleet of bicycles that anyone can use. Just swipe your credit card at the vertical terminal, release one of many bikes from its locked stall, then ride it on marked cycling routes throughout the city, or directly to a destination.  Parking stalls and routes are indicated on maps at each bike installation so you won't get lost.  Each time you stop to sight-see near a bike-share stall, just slide the bike into a rack, it locks automatically, and very shortly it will become someone else's exercise partner.  The beauty of the service is that it generally doesn't require a helmet.  One of the drawbacks of the service is that it generally doesn't require a helmet… AND if you have to wait for a bike to become available when you're in Brooklyn, you could be late for cocktails in the Bronx.  Click here to learn about community bike share in San Francisco.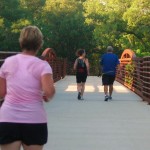 Walk
If you didn't download a city map and a printable walking tour before leaving town for your meeting, you can ask your hotel concierge to highlight the best walking destinations on a brochure and outline some routes for you.  Check things off on your brochure as you go so you don't miss the major attractions, and don't be afraid to get off the beaten path.  Make note of noteworthy and eccentric establishments as your cabbie whisks you through the city from the airport, then go back and find them on your feet. You'll run into the best coffee art cafes, the most interesting old houses, and charming little corner stores that you won't find on Tourist Avenue. You may burn enough calories to almost justify the mouth-watering apple fritter you found at Dave's Sugar Shack not to mention the energy you'll have the rest of the day just from staying on your toes. If Rick Steves or Lonely Planet has published a travel guide for the city you're visiting, it'll be a quality purchase, and when it rains, you can walk the halls, climb stairs between 2nd and 12th, or go to the hotel fitness club.  Remember to pack your Nike's and your fitness duds so you can avoid blisters and excuses.   Click here to learn about walking tours in San Francisco.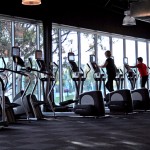 Go to The Fitness Club
One of the criteria for selecting a hotel is the quality of the fitness club.  Every large hotel in a large city has a fitness center and some of them have glitz galore. The Omni in San Diego, the Sheraton in Seattle, the Sheraton in Boston, even the Holiday Inn in Columbia, MO all have exceptional facilities for working out.  Check online or talk to the actual hotel desk staff before you reserve your room and ask about these items:  Cardio equipment(treadmills, elliptical trainers, lifecycles, walking tracks); strength-training equipment(training circuit, free weights, vertical bands stations);  abs room or abs corner (mats, fitballs, body bars, medicine balls); and towel service as well as a decent-sized pool.  Gym-rats are going to get to the facility early, so go really early or go a bit late, but get going.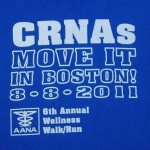 Your anesthesia meeting is a place to learn more about your ever-changing industry but it's also a place to have fun with old friends and to make news ones, a place to experience a new city in a new way.  Hike Aspen Mountain, jog the stairs next to the San Diego Convention Center, power walk the promenade while cruising between glaciers in Alaska, cycle from Fenway Park to The Old South Church.  You won't be putting anyone to sleep or trying to stay awake for one whole week.  Go make the most of it!
You can visit Liz at www.bdyfrm.com and learn more about her Traveling Bands comprehensive work-out indoors or out, and how to gain access to the Bands In the Park  mobile browser.  Read motivational, entertaining Lizlines every weekday including the weekly original Lizlimerick.