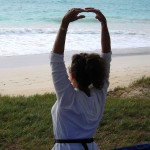 PROCRNA asked me to mount the March podium on the issue of stress-reduction which would be nearly laughable…except for the fact that I have so much personal experience. So here it is, the Body Firm method to decompress the stress.
Where do most of my clients turn for comfort during or after a tough day with the head, hands or heart?  Why, food, of course.  The number one method of coping with pretty much anything these days is comfort food or drink.  Some of you will turn to the box of goodies in the lounge, some of you will opt to ingest a 16-ounce cola, and some (more of you than would like to admit it) will eat two or three doughnuts pretending it's breakfast.  But be careful of calorie-dense stress relievers.  Sugar elevates your mood very briefly before acting as the downer it really is, dropping you as fast as a plumb line, and leaving unwanted calories and irritation behind.  And in the long run, useless food  raises your stress. Instead, munch on an orange, or snack on a handful of almonds, or both.  An orange will administer quick sugar, it's true, but it's loaded with vitamin C and will provide nutrients along with energy.  Nuts are a great source of protein that can hold you over until a real meal or simply sustain you through another case.  Try walnuts or pecans, too, and limit your serving to a clean, even dozen.  The crunch of the munch is very satisfying and brings fast relief.
You may be tempted to just flop on the decrepit sofa in the lounge when someone relieves you in the OR, not always a bad idea.  But even better:  Walk the hallway, stop to do squats every 12 strides, stretch your calves and quads and stretch your arms above your head, jog down the stairs to 2nd floor and jog up the stairs to 4th.  Pause to do a couple of Yoga positions and bring your heart rate back to normal, then re-enter your case room with mental peace restored.
Dr. Coyote howled, Dr. Hound bit, Dr. Wolf snarled throughout the last heart case and, quite possibly, the patient's heart is now doing better than yours.  Instead of chatting it up with staff and cohorts when you exit the room, pull out a good read.  Weird Sisters is a current hoot for chicks, and author, Olen Steinauer can capture either gender's attention in short order.  Try reading the daily "funnies" for comic and cardiac relief, or read anything cheerful that will take your mind off the present and help restore your equilibrium and your gift for humor.  LOL.
You may not be in charge of selecting music for the gall bladder room.  Pink Floyd or
George Strait may be the surgeon's consistent choice of genre, but when you get to choose, or when you go on a break, listen to music that relieves tension.  Relax with alternative sounds like waterfalls or crashing waves from a Narada collection.  Classical melody from Smetana's "The Moldau" or Debussy's "Daphnis and Chloe," and even big Wagnerian themes from "Tannheuser" or "Lohengrin" can fill your soul and remove the excess tension.  Schubert piano solos or symphonies, unrestrained strains from LAGQ,  Chis Botti love tunes on the trumpet or any of the music you simply know and love can take off the edge, and pull you back from it.  Massage your hands and feet while you listen to music and get maximum de-fusing.
Finally, here's one of the best stress-busters known to Venus or Mars – Meditation.  You'll need a quiet corner for this activity unless you're an excellent self-hynotic.  Close your eyes and preferably a door, get seated and settled with good core support, then start with slow, deep breaths in through the nose, out over the lips, switching to all nose breathing when you're fully "centered."  Tune out any and all distractions and focus on the breath (Toothpaste trumps garlic!); in…and out….in ….and out…"…he loves me….he loves me not….one for you…one for me…"  Relaxation is in the focus and in the rhythm.
K, I hate to wake you up, but there you have it – Body Firm's favorite decompression session.  An anesthetist has almost no time to relax during the workday.  Morning break is not a given.  Lunch can be 11:00 or 2:00 or not at all. The comfort and outcome of the patient will always be your ultimate concern.  But put your own health next in line and treat your stress with safe, un-medicated relief.  Your patient will benefit, and it may keep you from becoming one.
Visit Liz online at www.bdyfrm.com  Read daily Lizlines and leave a stress-free comment!